An Inspiring Gathering
for Writers and Readers
The Iceland Writers Retreat and Iceland Readers Retreat are held concurrently once a year, in April.
If you are attending the Iceland Writers Retreat, you can attend up to five two-hour writing workshops (each with max. 15 participants) led by our featured authors. You'll be able to choose from over twenty workshops on offer. Sign up early to get the best availability.
If you are attending the Iceland Readers Retreat, you'll attend a book talk by our visiting featured IRR author, a panel discussion with Icelandic authors, and an additional book talk/class with our featured author. You'll also attend two all-day literary tours (see below).
Everyone can attend a reading by all faculty and a Q&A panel on the final morning.
Literary Themed Golden Circle Tour
A unique variation on Iceland's most popular excursion that includes stops at Geyser geothermal fields, Gullfoss waterfall, and the UNESCO-listed Þingvellir National Park (Thingvellir), as well as a visit to Iceland's ancient seat of learning, Skálholt. For Readers Retreat participants and one choice (of 3) for Writers Retreat participants.
Literary Borgarfjörður
This trip travels west to the Borgarfjörður region, the setting of the famous Egil's Saga, as well as numerous other Icelandic sagas. We'll circle the picturesque Hvalfjörður "Whale" fjord and visit the cultural center Reykholt, where chieftain and writer Snorri Sturluson lived in the 13th century. Natural wonders on this tour include Europe's largest hot spring, Deildartunguhver, and the waterfalls Barnafoss ("Children's Falls") and Hraunfossar ("Lava Falls"). One choice (of 3) for Writers Retreat participants.
One of a Kind Reykjavík City Tour
This trip showcases some of the best highlights Iceland's capital has to offer, including a special visit to view the preserved manuscripts of the Icelandic Sagas (not usually open to the public - to be confirmed for 2024; if not then there will be a talk on the Sagas) and stops at the National Museum, Árbæjarsafn open-air folk museum, and the brand new Icelandic Lava Show, the first exhibition in the world where you get to see real, liquid lava close up (and safely!). For Readers Retreat participants and one choice (of 3) for Writers Retreat participants.
All workshops, readings, panels, and meals will be at the Fosshotel Reykjavík. We have secured several rooms at the special conference rate for participants who wish to book accommodation at the venue. Please visit our Registration Page for details on the conference rate.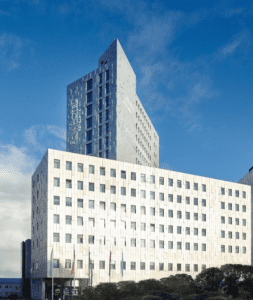 Our optional, two-day "Relax, Read & Write" extension gives you free time during the days to take additional tours, walk through town, shop for souvenirs, or write in a local café. The group will then gather in the evenings for dinner together. At the second dinner, we'll have an open mic night where you'll have an opportunity (if you wish) to share some of your own work with your fellow participants.
Be Social (but only if you want!):
Your participation in the Iceland Writers Retreat and Iceland Readers Retreat also includes a three-course welcome dinner (and faculty reading), buffet lunches on workshop days, refreshments during session breaks, cocktail receptions at interesting locations around town, and a pub night with reading by local authors and great live music.
You can sign up to bring someone with you: Our partner fee includes the welcome drink and dinner, all receptions, the literary walking tour of Reykjavík, the pub night, and one of our day tours.