2023:
In 2023, for one of our biggest events yet, we moved to a new venue in central Reykjavik. With its tasty restaurant, spacious ballroom, cozy workshop rooms, and charming lounges, the new space provided the perfect spot for literary inspiration. We also introduced a new city tour, introducing visitors to even more Icelandic authors, history, and some lesser-known local attractions. Our group comprised of 150 writers and readers, hailing from 17 countries, and included our six scholarship winners. Nearly thirty percent of our participants were alums, back to meet old friends and continue learning. But all of us, former and first-time participants alike, were able to come together to write, to read, to learn, to listen, to laugh, and ultimately, to forge new connections and new friendships.
Faculty Included: Amanda Smyth, Carol Leonnig, Chloe Aridjis, Claire Messud, Danny Ramadan, Helen Oyeyemi, James Wood, Nita Prose, Omar Mouallem, Oyinkan Braithwaite, Rúnar Helgi Vignisson, Geraldine Brooks
2022:
After too many years of virtual connections, our 2022 event, with in-person workshops, lectures, and tours, was a warm homecoming for our writers and readers. Even the weather welcomed us back, offering days full of bright blue skies and sparkling sun. We launched the inaugural Iceland Readers Retreat and held our 8th annual Iceland Writers Retreat, meeting writers and readers from 18 countries, all of us thrilled to gather, connect, and to be together, again.
Faculty Included: Aminatta Forna, Cynthia D'Aprix Sweeney, Dan Kois, David Chariandy, Elnathan John, Gretchen Rubin, Heather Harpham, Kristín Helga Gunnarsdóttir, Patrick Gale, Will Ferguson, Yrsa Sigurðardóttir, Adam Gopnik
2021:
In 2021, with the pandemic and travel bans still underway, we knew safety had to come first, but that we had to find a way to keep our precious writing community together. And so, from our homes around the globe, we gathered for the first ever virtual Iceland Writers Retreat and Iceland Readers Retreat. Some of our most dynamic former faculty joined to teach workshops to over 200 people from 26 countries. We offered thirty different workshops, across three days, which included a Q&A panel of Icelandic authors, book talks from renown authors, writing intensive workshops in both fiction and nonfiction, and more. Between classes, we offered brief informational talks, we opened up chat rooms for alumni or newcomers, and showed videos of past retreats and about Icelandic literature. Despite our distance, we found a way to unite, to write, to learn, and ultimately, to connect.
Faculty Included: Randy Boyagoda, Geraldine Brooks, Andrew Evans, Sara Wheeler, Marcello Di Cintio, Adam Gopnik, Alison Pick, John Vaillant, Gerður Kristný, Vincent Lam, Kate Williams, Claudia Casper, Bret Anthony Johnston, Carsten Jensen, Meg Wolitzer, Terry Fallis, Hallgrímur Helgason, Rory Maclean, Andri Snær Magnason, Pamela Paul, Ann Hood, Sarah Moss and Ragnar Helgi Ólafsson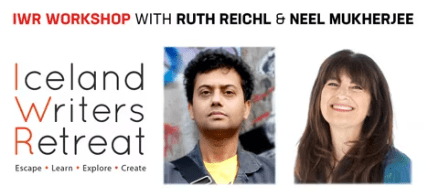 2020:
In 2020, during the height of the global pandemic, the Iceland Writers Retreat and what should have been the inaugural Iceland Readers Retreat, took a pause. We kept our former and would-be participants engaged through social media and by offering two online events. Our first event was an Introduction to Icelandic Literature that featured writer, poet and former IWR faculty Gerður Kristný, crime writer Lilja Sigurðardóttir, poet and former IWR volunteer Fríða Ísberg, and writer and poet Mazen Maarouf. This was moderated by IWR Co-Founder Eliza Reid and co-presented with Reykjavík UNESCO City of Literature. Our second event was an hour long workshop with acclaimed author Neel Mukherjee calling in from London to talk about point of view before bestselling author and food critic Ruth Reichl joined from New York to talk about writing memoir. With the events open to the public and livestreamed on Facebook and through other channels, we had questions and comments pour in from around the world. While the mini, virtual events weren't quite like a gathering in Reykjavik, seeing our new and familiar writer friends interact was just the medicine we needed to help us through this trying time.
2019:
The sixth IWR was a week filled with laughter, learning, and inspiration. Writers from over 20 countries participated in over 45 workshops and literary events. One writer praised the retreat as incredibly organized, with a positive and open atmosphere, run with heart. Another called the 2019 IWR an experience of a lifetime for an aspiring writer in need of inspiration and encouragement.
Faculty Included: Ann Hood, Chigozie Obioma, Elizabeth Renzetti, Ivan Coyote, Lina Meruane, Louis de Bernieres, Paul Yoon, Priya Basil, Ragnar Helgi Ólafsson, Sarah Moss, Tessa Hadley
2018:
For our fifth IWR, we hit our stride. Adding a third tour through the steaming wonders of the geothermal Reykjanes Peninsula and running 44 workshops, we sailed through the week and welcomed a record five Iceland Writers Retreat Alumni Award winners and many others from 17 countries. With two Icelandic authors leading workshops, and readings or performances by eight additional Icelanders, we amped up our commitment to celebrate Iceland's literary heritage.
Faculty Included: Adania Shibli, Andri Snær Magnason, Craig Davidson, Gwendoline Riley, Hallgrímur Helgason, Lauren Groff, Lina Wolff, Pamela Paul, Rory Maclean, Susan Shreve, Terry Fallis
2017:
With 120 participants joining us from 20 different countries, our diverse group of writers found inspiration from Iceland and from each other. By adding more faculty and new breakout sessions we were able to keep our workshops small and the event still felt intimate. In 2017, we proudly offered four scholarships and places at the retreat for two travel-writing contest winners. Multiple public events meant we could share our writing and techniques with an even wider audience.
Faculty Included: Bret Anthony Johnston, Carsten Jensen, Chris Cleave, Claudia Casper, David Lebovitz, Esi Edugyan, Madeleine Thien, Meg Wolitzer, Nadifa Mohamed, Paul Murray, Paula McLain, Vilborg Davíðsdóttir
2016:
Beneath nights with the aurora borealis glowing in the sky, our third IWR became a fully established a fixture on the Reykjavik literary scene. Attendance increased by 25%, with participants from 15 countries, meaning we had a wait-list. For 2016 we added three free, public events held during retreat, two alumni-funded scholarships, and two travel-writing contest slots. In addition to a larger faculty we added a new literary-themed day tour to Borgafjordur.
Faculty Included: Adelle Waldman, Andrew Westoll, Cheryl Strayed (virtual appearance), Elina Hirvonen, Gerður Kristný, Kate Williams, Mark Kurlansky, Miriam Toews, Neel Mukherjee, Vincent Lam
2015:
The second IWR built on the success of the inaugural year, attracting world-famous authors and nearly 100 participants from a dozen countries including Australia, Singapore, Bangladesh, Malta, Russia, Netherlands. Additions to the program included a larger teaching faculty and an optional two-day "Relax and Write" program, a tour of the Harpa Concert Hall, and a contest to win a spot at the IWR.
Faculty Included: Adam Gopnik, Alison Pick, Barbara Kingsolver, John Vaillant, Linn Ullmann, Marcello Di Cintio, Ruth Reichl, Sjón, Taiye Selasi
2014:
The first ever Iceland Writers Retreat hosted over 60 delegates from around the world. Highlights included a reception hosted by the President of Iceland, Ólafur Ragnar Grímsson at Bessastaðir, a reception hosted by the Canadian Embassy, a day-long Golden Circle trip guided by a prominent Icelandic historian and featuring lectures and informal talks by contemporary Icelandic authors, and a pub night with music performed by Lay Low.
Faculty Included: Andrew Evans, Geraldine Brooks, Iain Reid, James Scudamore, Joseph Boyden, Randy Boyagoda, Sara Wheeler, Susan Orlean